Fairfax County Public Schools
FCPS Main Web Site; FCPS-Approved Textbooks; FCPS Classes: MS, Gr9, 10-12, HS online;
Virginia's Fairfax Co Report Card
---
Fx Textbks: FCTA: 2017 approved list of Fairfax Co Schools' textbooks, by David Swink
FCTA has compiled a list of FCPS-approved textbooks, given a list provided by FCPS. The list has been reordered somewhat for readability, and ISBN numbers are hot-linked to the Amazon reference.
Fx Classes: FCPS: Course Catalogs -- Middle Sch; Grade 9; Grade 10-12; HS Online Academics
Core Docs : 50 Core Documents for Understanding American History -- Ashbrook Center
James Madison recommended certain fundamental documents as essential reading for future citizens and statesmen, including the Declaration of Independence, The Federalist, and George Washington's Farewell Address. The Ashbrook Center's list of 50 Core American Documents is meant to fulfill those same purposes 200 years later.
2018-01-29: FCTA: School District Collusion on Employee Salaries?, by Arthur Purves
I wonder if there is collusion among neighboring school districts, where each district justifies tax hikes for raises in order to compete with neighboring districts. The result is a spiral of unsustainable tax increases that drive away taxpayers and good jobs. Benefits that used to cost about 28% of payroll now cost 46%.
2018-01-25: Catholic World Report: What I learned in a community college, by P. Stravinskas
Having thought the level of learning was low for Catholic school alumni, I was totally unprepared for the abysmal situation with alumni of the government schools. I should note that these young people have attended upper-middle class, suburban schools, what people are wont to describe as "good" schools.
2018-01-16: Sun Gazette: FCPS superintendent seeks $97M more for FY2019, by Brian Trompeter
Fairfax County schools superintendent Scott Brabrand on Jan. 11 proposed a $2.9 billion FY2019 operating budget 4.3% higher than last year's budget, seeking a $96.9 million increase in the county's transfer, mostly to boost employee salaries. Arthur Purves, president of the Fairfax County Taxpayers Alliance, took issue with his comparison of various districts' school budgets.
2017-12-17: FCTA: One Fairfax - Its Illegitimacy and Unanswered Questions, by Laura Miller
On Nov 20 and 21, 2017, Fairfax County Supervisors and the School Board jointly approved the 'One Fairfax' resolution, to ensure that all of our public community chest, resources and accommodations will be spent or utilized to achieve RACIAL and SOCIAL EQUITY outcomes in income, grades, and crime -- a Leftist globalist agenda taken from 'UN Agenda 2020/30'. Citizens should be outraged!
2017-11-21: FxCo: 'One Fairfax', the county's new "Social and Racial Equity" policy
Fairfax County's new policy formally enshrines the Democrat Party's Alinskyite platform of class warfare, identity politics, and victimhood. So renaming schools and roads, changing bathroom and sex education policies, and any other nonsense "for the children" can now be given umbrella coverage.
2017-11-20: FCTA: Testimony before FCPS - 'One Fairfax', by Fred Costello
You have demonstrated by your decisions on Policy 1450 and on JEB Stuart that you do not listen to what the majority of people want; to hell with the taxpayers. And in the low-turnout School Board elections, 34% of the vote comes from school and county employees and their spouses. Thus either term limits or a county equivalent of the Hatch Act need to be instituted.
2017-11-20: FCTA: Nov20 FCSB meeting notes - Child Abuse, Misleading Public, by S.B. Reporter
Each school board meeting brings forward more and more accusations of improprieties, corruption, and bad decisions by the Fairfax County School Board and the November 20, 2017 school board meeting had some doozies -- Gender Dysphoria, JEB Stuart rebellion, 'One Fairfax' policy, School Union quid pro quo.
2017-11-04: WT: Poll finds millennials prefer socialism to capitalism, by Bradford Richardson
In the Victims of Communism Memorial Foundation's "Annual Report on U.S. Attitudes Toward Socialism," 58 percent of the up-and-coming generation opted for one of the three systems, compared to 42 percent who said they were in favor of capitalism. (And you wanted to know what is wrong with our education system?)
2017-10-xx: Limbaugh: The Left's hateful view of America vs Reality
America is under attack from within, largely financed by people like George Soros and others. They make common cause with Americans whose objective is to take the nation down, hasten our decline. To defend America, it is necessary to know our history. The purpose of the United States of America and its proud legacy must be understood to be protected. Which is why unmooring us from our own history is crucial for the Left to succeed.
2017-10-27: NBC4: FCPS Board inflicts "Social Justice" on J.E.B. Stuart High School
The Fairfax County School Board voted 7-4 to change the name of J.E.B. Stuart High School Thursday night after nearly four hours of debate and community testimony. In a bow to the Left, the board will rename the school "Justice High School" by 2019 at a cost of $500,000 to $1 million.
2017-09-28: FCTA: Testimony before FCPS - FLE and Suicide, by Fred Costello
Suicide is not always the result of mental illness. Sometimes people simply choose death over the pains of life. Your FLE program adds to the pains. FLE should NOT lead 50% of your 184,000 students into extra-marital, unfulfilling sex, dismal marriages, and the occasional suicide as it does now. It should instead teach about a satisfying marriage, not animal sex.
2017-08-30: Sun Gazette: Keys-Gamarra wins special election for Fairfax School Board seat
With an anemic turnout of 10.4 percent in the rainy special election, Keys-Gamarra garnered 41,519 votes, or about two-thirds of the total. Chris Grisafe came in second with 21,389 votes, followed by Michael Owens with 1,346 votes and Sandra Allen with 719 ballots.
2017-08-15: WT: Teaching history amid America's history gap, by Deborah Simmons
Are we even teaching history to children anymore? We teach that blacks served on the Union side of the Civil War. Do we teach that blacks also served on the Confederate side, too? More important, once most or all of the Confederate statues are removed, what's next? The culture of ignorance is obvious, as is Americans' history gap.
2017-07-30: Fx Free Citizen: History Repeats Itself (J.E.B. Stuart Killed by a Classmate)
The July 27 FCSB Meeting was surreal, but predictable as the 7 hard core cultural Marxists and 2 gutless abstainers all voted to change the J.E.B. Stuart High School -- a school with over 100,000 graduates, the highest diversity rate in Fairfax, and zero reported race-related incidents in decades, and where 90% of the students polled recently want to keep the name or do not see a compelling need to change it. (See video.)
2017-06-27: FCTA: Testimony before Va Board of Education - FLE and ESSA, by Fred Costello
Your proposed ESSA plan has a number of Title-related programs intended to remedy student deficiencies or handicaps -- handicaps that have their roots in faulty family lives. Yet you do nothing to teach today's students how to be good, faithful husbands and wives, fathers and mothers, in stable marriages -- family lives that produce good, happy citizens. The FLE program here in Fairfax County illustrates the point.
2017-06-14: Daily Caller: A Code Of Ethics For K-12 Educators, by David Horowitz, Mark Tapson
Since the '60s, American colleges and universities have been fundamentally transformed from institutions of higher learning to mills of political indoctrination. Now through the leftwing schools of education, the tentacles of that "social justice" indoctrination now latch onto youthful minds in secondary schools beginning in kindergarten. Today's young college arrivals are shoddily educated but already steeped in leftwing propaganda.
2017-06-01: WaPo: Fairfax County selects new school superintendent, by Shapiro & Balingit
Scott Brabrand, a former Fairfax High School principal who now leads a small district in Lynchburg is in line to become the next superintendent of Virginia's largest school system, the Fairfax County School Board announced Thursday.
2017-05-30: WaPo: Jeanette Hough resigns from Fairfax school board, prompts special election
Fairfax County School Board member Jeanette Hough announced Monday that she is resigning effective Wednesday, leaving her post after less than two years in office. A special election to fill the vacancy left by Hough could be held as soon as August.
2017-04-27: FCTA: School Board Members Get Public Spanking, by Tom Cranmer
Numerous school board members got a severe public spanking at the Fairfax County School Board (FCSB) meeting on April 27, where six speakers took on different subjects and exposed the recklessness and corruption within the school board and school system.
2017-04-27: FCTA: Testimony before FCPS - FLE and Caring Culture, by Fred Costello
The Fairfax Co Family Life Education program is a misnomer. It does not teach responsible family life -- only 'Pregnancy-free Sex at Any Age'. Today, divorce ends 50% of marriages, but the program does nothing to reduce this rate. FLE's goal should be to cultivate a caring culture and get the divorce rate down to 1%.
2017-03-23: FCTA Palm Card shows high taxes, mediocre education, by Arthur Purves
Since 2000, real estate taxes for the typical Fairfax County homeowner increased 154% (from $2.4K to $6.1K), while Fairfax County Public Schools spending has increased 108% ($1.4B to $2.9B) while enrollment increased only 21%.
2017-03-12: FCTA: What Fairfax County Parents Need to Know about FLE, by a Citizen Crusader
This is a two-page Q of what is going on in Fairfax County Public Schools. Note that an outraged mother testified at the March 9 School Board meeting that she had to take her children out of the school system due to safety and privacy concerns after discovering that school officials were secretly allowing boys into the girls bathrooms of her elementary school without her knowledge or consent.
2017-03-03: Sun Gazette: MCA Seeks Independent Task Force on FCPS Pensions, by B. Trumpeter
The McLean Citizens Association (MCA) board of directors passed a resolution March 1 urging the Fairfax County School Board to establish an independent task force that would examine ways to make the school system's retirement plans financially sustainable, in time for the fiscal 2019 budget recommendations.
2017-03-01: Liberty Council: Fairfax County LGBT Case Goes to VA Supreme Court
Tomorrow, Liberty Counsel argues before the Virginia Supreme Court in Lafferty v. Fairfax, the challenge to the Fairfax County School Board regarding its illegal policy in which the board added "sexual orientation", "gender identity", and "gender expression" to its policy and student handbook. Virginia's "Dillon Rule" may force a ruling against the county's LGBT policies.
2017-02-27: FCTA: FCPS needs an Office of Inspector General, by Charles McAndrew
Having an Auditor General position, as described in a January 2017 statement by the FCPS Board, does not provide adequate independence for reviewing management policy and proposed budget review. Having an Inspector General would provide this needed independence.
2017-02-25: Fx Free Citizen: FCPS Needs an Inspector General, by Tom Cranmer
The public has lost confidence in FCPS and the School Board, as evidenced by the vote against the meals tax. Firing the Auditor General and the assistant last year and not announcing why you did not replace them adds to the mistrust. One way to restore trust is to establish the post of an Inspector General (IG).
2017-02-22: WT: Feds no longer push transgender bathrooms, leave to states, by B. Richardson
The Departments of Education and Justice on Wednesday issued a two-page letter reversing the Obama-era edict, saying that Title IX's prohibition on "sex" discrimination in education DOES NOT also apply to gender identity. The guidance also said the federal government must recognize "the primary role of the States and local school districts in establishing education policy."
2017-02-05: FCPS: Community and Leadership Profile Survey -- Not so good!
Look at the terrible community and student ratings of the schools in the appendix. This mirrors the vote against the meals tax, despite the expensive propaganda blitz on how the schools needed money and people's votes. Obviously, the schools system should rehire the Auditor General they fired, and get to the root of their problems.
2017-02-02: FCPS: School Board Work Session - Budget -- Video (2:45:18)
2017-01-30: FCPS has Excellent Schools ... for a few, by Arthur Purves at FCPS hearing
2017-01-30: Reston Now: Fairfax Co Projects Continued Flat School Enrollment, by Dave Emke
Fairfax County Public Schools are still growing, but they are not seeing nearly as many new enrollees as they have in recent years.
2017-01-08: FCPS: Pat Hynes Rants Against Trump's Agenda ... your School Board at work!
2016-12-07: AMAC: "American History in No Time", by Randolph G. Russell -- Book Review
The idea for American History in No Time began with the author's realization that his children did not know many things he assumed they were learning in school. And bookstores had no short, easy-to-read offerings. So the author has provided an easily digestible history of America from before Columbus to the present day, laying out the basics of our culture, or the "big picture", in around a hundred pages.
2016-12-06: WaPo: U.S. high schoolers drop further behind internationally, by Joe Heim
In the latest Program for International Student Assessment (PISA) measuring math literacy in 2015, U.S. students ranked 40th in the world. The U.S. ranked 25th in science literacy and 24th in reading literacy. Singapore topped all nations in all three categories. China, Japan, Korea, Canada, Switzerland, Estonia, Australia and New Zealand were among the other top-performing countries.
2016-11-17: FCTA: Outgoing FCPS Superintendent Garza gets an Earfull, by Fred Costello
The Nov. 14 FCPS School Board Meeting was a Garza lovefest that got rained out due to a sudden downpour of truth and honesty. The school board wanted to forget the "meals tax" failure and any "new national mandates" that emerged after the Nov. 8 election. Unfortunately, frustrated and angry parents lambasted the outgoing superintendent, reminding everyone in the room of her true legacy.
2016-10-19: CNS News: FCPS to spend $20K on JEB Stuart name change 'facilitator' -- on hold
A plan by the Fairfax County Public School (FCPS) Board to spend potentially $20,000 to hire a facilitator to lead a working committee looking into changing the name of J.E.B Stuart High School has been put on hold, according to an Oct. 12 email by retiring Superintendent Karen G. Garza.
2016-10-12: WT: Fewer colleges require seven core disciplines, by Bradford Richardson
A new study indicates the vast majority of colleges and universities are failing to teach their students core disciplines (composition, literature, intermediate-level foreign language, U.S. history or government, economics, mathematics and natural sciences) necessary for success in the workplace and the maintenance of a free and self-governing republic.
2016-10-02: Fx Free Citizen: Parents Challenge FCPS Gender Identity Policy, by Tim Hannigan
"What we have instead is an idiocracy gone wild!" So said Laszio Pentek, a Fairfax County Public Schools parent, along with nine other Fairfax County citizens at the Sept 22 FCPS Board meeting, in vigorously opposing the school system's assignment of vulgar and profane books to his daughter over the past three years.
2016-09-xx: ParentAndChild.org: Family Life Education Evaluation (2016-2017)
Evaluations of the 2016-17 FLE curriculum weree conducted by Parent and Child, a group of Fairfax County parents whose backgrounds include education, health care, and biology and whose children attend or graduated Fairfax County Public Schools.
2016-09-24: Examiner: An easy solution to the teacher shortage, by Robert Fellner
There's an easy way for any state to solve its teacher shortage: Stop forcing them to pay for other people's retirement, and use those savings to provide an across-the-board pay raise instead.
2016-09-19: WaPo: Fairfax County Schools superintendent Karen Garza resigns
Garza's departure will be effective Dec. 16 -- three and a half years after she started in Fairfax -- and she will move to Columbus to become president and chief executive of Battelle for Kids.
2016-09-13: WT: Va. Supreme Court to hear case over Fairfax LGBT policy, by Brad Richardson
The Virginia Supreme Court has agreed to take a case challenging the Fairfax County School Board's authority to extend nondiscrimination protections to LGBT students. At issue is whether the board adhered to "Dillon's Rule", which bars local nondiscrimination laws in Virginia from being more stringent than the statewide standard.
2016-09-05: WT: Transgender policy battle in Fairfax County, Virignia, by Julia Porterfield
Parents whose children attend Fairfax County Public Schools are preparing to fight transgender policies and educational courses when the academic year begins Tuesday. The group Concerned Parents and Educators of Fairfax County last week released a 13-page package advising parents on how their children can avoid gender identity education.
2016-08-24: CPEFC: Fairfax County Parent Information Package -- 5 Ways to Protect Students
Frustrated by the recent actions of the Fairfax County School Board? Wonder what you can do to protect your children? Then read on! Join the community of concerned parents and educators who stand firm against those seeking to endanger our children by pushing Gender Identity politics. Together we can fight back on behalf of ALL children and students in Fairfax County.
2016-08-22: Reuters: U.S. judge grants nationwide injunction to halt Obama transgender policy
Under the injunction, the Obama administration is prohibited from enforcing the guidelines on "against plaintiffs and their respective schools, school boards, and other public, educationally based institutions." -- U.S. District Judge Reed O'Connor
2016-08-10: Connection: Supervisors seek "social justice" in Fairfax schools, by Ken Moore
This month, the Board of Supervisors and the School Board passed a joint resolution called "One Fairfax: a community where everyone can participate and prosper." The idea is to address inequity in opportunities across the county. (But since FCPS seems incapable of bringing up the low end, this means that the high end will have to be diluted -- in true socialist fashion.)
2016-07-19: FCPS: Transgender Regulation Work Session Cancelled; Regulation Placed On Hold
2016-07-17: Liz Schultz: FCPS to ignore public, set Transgender Regs 07/21! -- Plz show up!
The School Board continues to do an end run around public deliberation.
2016-07-07: JWR: 1966 Coleman Report study of public education still valid, by George Will
Coming out one year after the more famous Moynihan Report, the Coleman Report presented a statistical analysis of public education across the country. Coleman's evidence that cultural rather than financial variables matter most was not welcomed by education bureaucracies and unions. Fifty years later, this still-valid conclusion continues to be ignored.
2016-07-01: FCPS: New Transgender Regs -- UPDATE on July 14 Board Mtg!
On Friday, July 1, the FCPS School Board Chairman, Pat Hynes dumped new transgender regulations on the Board, asking for quick approval behind closed doors. The regulation includes: "Affirmation"; "preferred gender pronoun"; and "preferred gender" in chorus, sex ed, sports. Last year, parents were promised a say in all this. The School Board is doing an end run around public deliberation.
2016-06-28: AMAC: New S.C. Law Ensures Students Will Study the Founding Documents
"This was once common sense throughout America, but now we are forced to fight to ensure that even the most basic texts -- the Constitution, the Federalist Papers, the Declaration of Independence -- are taught." -- Arthur Milikh, The Heritage Foundation
2016-05-19: Examiner: School choice wins in Nevada court, by Jason Russell
A Nevada judge dismissed an ACLU suit challenging the constitutionality of the state's landmark school choice program, saying the program was constitutional because parents, not the state government, decide if they want to use the funds at religious schools.
2016-05-16: WT: Students using devices to take notes perform worse, by Bradford Richardson
A group of economists went to West Point to measure the effects of integrating computerized devices into the classroom. The results: The technology-ridden classrooms scored 1.7 points lower on average in a 100-point exam than their pen-and-paper counterparts, perhaps demonstrating the pitfalls of multitasking.
2016-05-16: WT: Universal gov't-funded preschool proves to be misguided, by Burke & Furth
Studies of large-scale preschool programs in Quebec and Tennessee show that vastly expanding access to free or subsidized preschool may worsen behavioral and emotional outcomes for students. Even proponents acknowledge that universal preschool does nothing to improve future academic performance.
2016-05-13: WMAL: FCPS board member Elizabeth Schultz on transgender issue -- Audio (6:49)
WMAL's Mornings on the Mall interviews the conservative Fairfax County school board icon regarding the explicit threat from the Obama regime to withhold funding from school districts that fail to comply with Obama's transgender bathroom dictats, and where she thinks this will lead.
2016-04-xx: FCTA: Budget in 1971 - Fx Co $294.5M, FCPS $79.7M -- Blast from the past
2016-04-28: CNS News: Majority of H.S. Seniors Not College-Ready, by Barbara Hollingsworth
Despite the fact that the U.S. spends more than $600 billion per year on public education, a large majority of high school seniors are not ready for college-level work in math and reading, according to the latest results of the 2015 National Assessment of Educational Progress (NAEP), also known as "the nation's report card".
2016-03-29: FCTA: FCPS "Listening Tour" at Madison H.S., by Arthur Purves Tim Hannigan
Dr. Garza presented the usual litany of alleged needs for the FCPS system, and a desire for a 6.75 cent (vs the 4 cent announced) increase in the Fx Co tax rate. FCTA's Arthur Purves countered with some actual facts. And the head of the teachers union recommended attendees support a meals tax as a way to get more revenue for FCPS.
2016-02-23: FCTA: FCPS "Listening Tour" at South County H.S., by Charles McAndrew
Dr. Garza started her presentation by praising the FCPS system, offering statistics that are perhaps somewhat suspect. She has requested a 6.7% increase in funding from the County for FY 2017.
2016-02-17: Just Facts: The State of the U.S. Education System -- video (6:56)
Just Facts president Jim Agresti states that the U.S. spends $283,000 per year per classroom for K-12 education. Students from the U.S. fare poorly relative to students from other countries, but not before Grade 4. Private schools cost half as much per classroom and get better results, including students who have switched from public school to private school.
2016-02-08: Sun Gazette: FCPS board digs in for 120M budget increase, by Scott McCaffrey
Members of the Fairfax County School Board have adopted a combative stance, proposing a $2.67 billion fiscal 2017 budget that does not include any cuts proposed by a task force convened last year and promising to mobilize community support on behalf of the plan.
2016-02-05: NYT: Who Needs Advanced Math? Not Everybody, by Jane Karr
Challenging convention in his new book, "The Math Myth and Other STEM Delusions", Andrew Hacker argues against the requirement that all high school students take a full menu of math. (Read also his Op-Ed: Is Algebra Necessary?)
2016-01-29: Sun Gazette: FCPS teacher group pushes funding, meals tax, by Brian Trompeter
The Fairfax Education Association (FEA), an FCPS proxy group, wants county supervisors to increase the real-estate tax rate to fund the bloated Fx Co school system, and is encouraging the supervisors to pursue a meals-tax referendum... again! (So what will they advocate the following year???)
2016-01-28: FCTA: Purves' Testimony at FCPS Budget Hearing
"My name is Arthur Purves. I address you as president of the Fairfax County Taxpayers Alliance. Once again the Fairfax County Public Schools (FCPS) administration has been less than candid in its budget presentation."
2016-01-24: Fx Free Citizen: Shining Light On Common Core, by Ileana Johnson
Common Core was developed by 30 individuals with the purpose of dumbing down American education even further. These 30 people had to sign a confidentiality agreement that they would not discuss what took place in their meetings. Five committee members did not sign the final standards and were thus "expunged from the record".
2016-01-21: Watchdog.org: 7 articles for National School Choice Week
Nick Gillespie, editor of Reason.com, sees school choice as a natural issue for libertarians because it "fits with libertarian emphases on individual choice, autonomy, and responsibility. The traditional public school system, K through 12, which is a $600 billion a year industry, is filled with abuses, waste, and misdirected attention."
2016-01-18: The Federalist: O'Keefe's Common Core Videos Are Just The Tip Of The Iceberg
Self-described right-wing muckraker James O'Keefe has begun publishing a series of undercover videos about Common Core. One thing these videos emphasize: When companies can earn money not by producing good things people want to buy but by influencing politicians to tilt the playing field in their favor, quality drastically suffers.
2016-01-07: WaPo: FCPS superintendent proposes teacher raises, class size reductions
Garza's budget -- which is likely to undergo several school board changes before it is presented to the county -- seeks $1.9 billion from the county, $67 million more than county officials signaled they would provide to schools. The county, Virginia's largest, is facing a shortfall of its own.
2016-01-07: FCTA: Purves' Questions Forbidden at FCPS Budget Briefing
Fairfax County Public Schools on Wednesday advised Arthur Purves, president of the Fairfax County Taxpayers Alliance, that Mr. Purves would not be allowed to ask questions at the school superintendent's budget press briefing on Thursday, January 7.
2016-01-06: HB389: Parental Choice Education Savings Accounts, introduced by Del Dave LaRock
Allows Virginia parents 90%-level educational funding to apply toward their child's education in a school of their choice, as certified by the state.
2015-12-18: Fx Free Citizen: Musings on Indoctrination by Teachers, by Ileana Johnson
The depth of blatant ignorance and naiveté of American teachers, even smart ones, is astonishing. Teachers across the country willingly indoctrinate their students many hours a day into the tenets of Islam, collectivism, environmentalism, and perverted and inappropriate for their age sexuality.
2015-12-07: Fairfax County Teachers' salaries: Too Low or About Right? -- FCPS, FxCo sources
2015-12-01: CEI: A Remedy for FCPS's Taxpayer Giveaway to Unions, by Trey Kovacs
Activity performed on "release time" serves the interests of unions. Unions, not taxpayers, should incur those costs, which FCPS has been paying for since 1986, despite the constitutional restriction on granting public aid to private entities.
2015-11-18: Sun Gazette: Proposals are in to cut FCPS costs -- Editorial
To hear the Fairfax Education Association and Fairfax County Federation of Teachers tell it -- you'd think the school-system's budget has been decimated in recent years. The facts say otherwise. Fairfax schools deserve reasonable funding. But so do a host of other county programs. And taxpayers deserve to be respected by elected officials, not treated as ATMs.
2015-11-11: WT: Common Core's double whammy, David V. Anderson
Common Core has not brought any improvements in the important subjects of mathematics and reading. In fact, the presence of this unfortunate "experiment" correlates with performance degradation in both subjects. And states which have formally participated in Common Core have fared worse than those not doing so.
2015-11-03: FCTA: 2015 Fx Co Public Schools Board Election Winners, by David Swink
2015-11-01: WT: School board blocks release of gender identity documents 'til after election
The Fairfax County school board has filed a lawsuit that blocks until after Election Day Tuesday the public release of documents on a controversial transgender policy, prompting several candidates for the board to say Monday that voters now must toss the incumbents.
2015-10-31: WT: School board was implementing gender identity policy before May 7 hearing
New documents show that the Fairfax County School board had already moved to change its nondiscrimination policy to include "gender identity" without consulting parents, before the May 7 vote even took place.
2015-10-28: Fx Free Citizen: Teaching Sex-Ed in Fx Co, Parts 1, 2, & 3 -- by Fred Costello
This three-part series is entitled "A Summary of Fairfax County's Family Life Education Lessons Plans". The first part summarizes the FLE lesson plans on "human growth"; the second part comments on the lesson plans; the third part provides an outline of individual FLE (sex education) lessons.
2015-10-16: CNS News: School Board Hasn't Responded to FOIAs on Transgender Policy
Concerned Fairfax County parents say the local school board acted hastily in making "gender identity" part of its non-discrimination policy, but the board is ignoring FOIAs to release behind-the-scenes information leading up to their controversial decision -- at least until after the upcoming November election.
2015-10-12: Choice media: "We Don't Want School Choice" -- Satirical music video (3:38)
2015-10-08: Watchdog.org: Texas charter network boasts 99.9% college-going rate, by K. Ward
Graduates of a charter school network in Austin, San Antonio and the Rio Grande Valley boasted a 99.9 percent college acceptance rate this year -- roughly double the statewide average. Parents are lining up to get their children into the publicly funded, independently operated schools.
2015-10-08: CBS: Former CEO of Chicago Public Schools indicted on corruption charges
The former CEO of Chicago Public Schools, Barbara Byrd-Bennett, will plead guilty to charges in an indictment released Thursday that alleged she steered more than $23 million in no-bid contracts from CPS to her former employer, authorities said Thursday. The U.S. Attorney said Byrd-Bennett and others "entered into a scheme to secretly profit from schools."
2015-09-09: FCTA: Minutes of FCPS Budget Meeting at South Lakes H.S., by Charles McAndrew
2015-09-07: Watchdog.org: School choice improved public schools in Milwaukee, by Paul Brennan
One of the most persistent is that school choice undermines public schools, making them worse. "It's not true. If anything, it works in the opposite direction. Giving parents choices about where to send their children seems to force public schools to improve their performance." -- John Witte, emeritus professor of political science and public policy at UW-Madison
2015-08-31: WT: Better school choices for less (in AZ, FL, MS, NV, TN), by Ed Feulner
Five states now have Education Savings Accounts (ESAs) that enable families to deposit their child's state per-pupil funding in an account that can be used for a variety of education options. If they want to use the money that would've been spent at their child's "assigned" school for a different education option, they can do that instead. Plus ESAs save taxpayer money!
2015-08-28: Examiner: It shouldn't take a hurricane to create all-choice school districts
The progress made in all-choice school districts like the one in New Orleans should be celebrated, and the lessons should be learned across the nation. It shouldn't take bad academics or natural disasters to get cities to empower families to choose their children's school.
2015-08-28: AMAC: New AP Test Seeks to Rewrite History for Political Gain, by John Grimaldi
The previous AP U.S. History course featured a strong insistence on content, i.e., on the students' acquisition of extensive factual knowledge of American history. The new 2014 framework repudiates that earlier approach, centralizes control, deemphasizes content, and seeks to "internationalize" the nation's past. (Read related IMPRIMUS post.)
2015-08-18: Examiner: Teachers clueless on money schools spend per student, by Jason Russell
It's possible that the gap shows the difference between how much is spent on education and how much reaches the classroom. There's a difference between spending on instruction and spending that gets swallowed up in bureaucracy or non-instructional services.
2015-08-07: FCTA: IQ Tests, GT, AAP, and PC in Fairfax Co Schools, by Fred Costello
Around 1995, FCPS got rid of individual IQ tests, which were given to kids who the teachers thought had the most potential. Less accurate group ability tests were given to all 1st and 2nd grade students. Eventually, racial diversity entered into the equation, the gifted curriculum was dumbed down to compensate, and there are now proposals to save money by eliminating self-contained classes for highly gifted kids altogether.
2015-08-06: WMAL: FCPS's Elizabeth Schultz on school budget priorities -- video (8:30)
Fx Co School Board member Elizabeth Schultz talks about the current $100M budget shortfall. She says we didn't just get here overnight, we can no longer avoid glaring fiscal realities, and we're merely "at the edges" when we talk about sports, but mainly that Fairfax Co voters need to pay attention in November -- on both school board and supervisor elections.
2015-08-04: Watchdog.org: Texas flunks school-choice test, by Kenric Ward
Metrics undermine the conventional wisdom that more public spending translates into better education. Per-pupil allocations have risen steadily in Texas -- growing five times faster than enrollment -- while SAT scores have remained flat. Outlays for non-teaching positions have climbed 172 percent. (Hmmm, just like FCPS!)
2015-07-xx: IMPRIMUS: History, American Democracy, and the AP Test Controversy, by W. McClay
Imprimis lecture by Wilfred M. McClay, University of Oklahoma.
2015-07-27: Examiner: Louisiana's charter school solution after Katrina, by Jason Russell
Before Katrina, barely more than half of New Orleans students graduated. After Katrina, the city-run school district decided to reopen its first schools as charters. In the 2013-14 school year, three out of four graduated -- right in line with Louisiana's statewide graduation rate.
2015-07-16: WT: Congress guts No Child Left Behind education plan, by Tom Howell
Congress has voted to scrap much of the Bush-era education plan. The government will continue to ship billions of dollars to states, but with fewer strings attached. Gone are the yearly progress goals, designed to force schools to show continual improvement. But schools were supposed to be at peak proficiency by last year, and none were close.
2015-07-07: Fx Free Citizen: "Holistic Approach" in FCPS Strategic Plan, by Tim Hannigan
Above and beyond the politically charged term "global citizen" (see discussion here), the phrase "a more holistic approach to education that addresses student's social and emotional needs" in Fairfax County Public Schools' Ignite: Strategic Plan 2015-20 (page 8) also warrants further clarification.
2015-07-06: WaPo: Outspoken conservative riling Fairfax Co School Board, by T Rees Shapiro
Casting her no vote on the "gender identity" issue last month, Springfield district representative Elizabeth Schultz rose to her feet as the vast majority of those in attendance gave her a rousing ovation. Never mind that the measure passed in a 10-to-2 vote. Even in the lopsided defeat, a woman's voice called out above the din: "Thank you, Elizabeth!"
2015-07-05: Fx Free Citizen: FCPS Educating "Global Citizens", by Tim Hannigan
Whoa! Does the FCPS really intend for its students to identify themselves first and foremost with an undefined, unstructured, almost mythical "global community" rather than as citizens of Fairfax County, the state of Virginia, and the United States of America? Is something a bit sinister is going on here? (Read Ignite: Strategic Plan 2015-20, p. 10)
2015-06-26: Fx Ti404: Home schooling on the rise in Fairfax Co, nation, by Kate Yanchulis
The number of home-schooled students in Fairfax County increased by 125 percent, from 1,306 in the 2005-06 school year to 2,936 this year, according to statistics from the Virginia Department of Education. Nearly 1.77 million were home-schooled in the U.S. as of 2012, 3.4 percent of all school-age children across the country.
2015-06-26: Connection: Health Curriculum To More Closely Align with Va., by Tim Peterson
The proposed addition of "gender identity" in Fairfax County schools was front-and-center again last night at the school board meeting at Luther Jackson Middle School in Merrifield. Of major concern to parents were the less abrasive Virginia requirements and the ability to opt out of any Fairfax Co "gender identity" requirements. The Board appeared quite unprepared and downright dismissive of parents' concerns.
2015-06-16: Reston Now: FCPS Taking a Hard Look at Slashing $100M in Costs, by Karen Goff
Eliminate Advanced Academic Centers, elementary band and strings programs and speech therapists; go back to mini-Mondays; charge tuition for language immersion programs; and cut back the number of custodians and make kids clean the school. Those are just a few of the dozens of citizen ideas on how Fairfax County Public Schools can save money.
2015-05-21: FCPS: School Board Approves FY 2016 Budget... details here
The Fairfax County School Board has adopted the Fairfax County Public Schools (FCPS) FY 2016 Approved Budget of $2.6 billion which includes a step increase for all eligible employees and a market scale adjustment of 0.62 percent. The FY 2016 budget is an increase of $53.9 million, or 2.2 percent, over the FY 2015 Approved Budget.
2015-05-19: FxTimes: Higher taxes won't improve our schools -- Comment, by Howie DeFelice
Parents who don't instill the importance of education in their children doom them to failure. When parents got involved, the children thrived, some were able to be mainstreamed into the student population. The real problem is not that we don't spend enough, it's that we spend too much in the wrong places.
2015-05-17: FCTA: Fairfax Schools Introducing Gender Fluidity Policy, by Jim Ruland
The FCPS Family Life Education report is full of strikethroughs of text to be transferred from FLE and into the Health curriculum, which means that parents will not be able to "opt-out" of the new policies.
2015-05-13: WT: Fairfax moves ahead to add 'gender identity' to curricula -- no 'opt-outs'!
FCPS is preparing to add "gender identity" to its curriculum, less than a week after the school board voted for this policy over parental objections. However, most of the new agenda items will be moved from the family life curriculum into the health curriculum, which means that parents will not be able to opt their children out of the lessons.
2015-05-08: FCPS board votes transgenders are "special" -- Sun Gazette, Examiner, Video

2015-05-07: CNS News: Feds forcing public schools to adopt 'gender identity' polices
The U.S. Dept of Education is demanding that the Fairfax County Public Schools, in the Virginia suburbs just outside Washington, D.C., "revise their non-discrimination policies to include gender identity" or risk losing the federal funds they receive for their schools.
2015-05-05: WT: Parents outraged over Fairfax 'gender identity' policy, by Kellan Howell
Under the new provision, transgender students and faculty would be considered a protected class, meaning that male students who identify as female could use female bathrooms, and parents would not be able to opt their children out of classes taught by transgender teachers.
2015-03-26: FCPS: ESOL Cost in the FCPS -- letter to FCTA from Elizabeth Schultz
The following letter was sent by FCPS Board member Elizabeth Shultz to FCTA's Charles McAndrew regarding FCPS' "unaccompanied children" problem from the Obama administration, and her efforts to get the FCPS Board to finally request help from the feds...
2015-03-25: FCTA: Fx Co savings if private sector policies adopted, by Fred Costello
2015-03-13: Fx Free Citizen: ERFC-2001 costs FCPS $206M/year vs 'Legacy', by Fred Costello
FCPS is currently trying to fill a $100M shortfall. Simply reverting to the pre-2001 version of the ERFC (Legacy) pension plan would eventually save $206M per year. (ERFC2001 was introduced during the housing bubble, when the County was flush with money, and was retained when the bubble burst.) ... See also Fred's report and his summary budget recommendations.
2015-03-04: FCPS: ORR Federal request for funds -- for 1,373 illegal children
The following letter was sent by the FCPS Board separately to three Northern Virginia U.S. congressmen and both Virginia U.S. Senators, requesting federal financial help to educate the 1,373 "unaccompanied children" dumped into the county by the Omama administration...
2015-02-12: Watchdog.org: Rising tide of limited-English students swamps school budgets
Costs for schooling a surging number of limited English proficiency students are soaring -- $2.5 billion in the Washington, D.C., region alone. But the federal government, responsible for the influx of immigrants, is ducking the bill. Alexandria, for example, is spending $25,538 for each of 4,183 LEP students. (Read also: Cost in Translation, for local specifics.)
2015-01-29: FCTA Testimony at FCPS Budget Hearing, by Arthur Purves
Arthur testifies at the FCPS Budget Hearing at Luther Jackson Middle School in Merrifield, Va. He asserts that the budget "crisis" has failed to factor in public sector generosity in the face of private sector penurity.
2015-01-28: FCTA: FCPS Budgets 2000 to 2016 -- compiled by FCTA's Fred Costello
Fairfax County Public Schools (FCPS) budget data for FY2000 through FY2015, as shown graphically, with summary data, and in item-by-item detail.
2015-01-20: Fx Underground: FCPS non-local travel report, Jun2013 to Aug2014 -- Necessary?
There have been a lot of comments about travel for FCPS employees. Here is a listing for about 15 months of non-local travel as reported by FCPS.
2015-01-08: FCPS: Superintendent Proposes FY2016 Budget of $2.6 Billion -- 2.6% above FY2015
Would address several significant cost drivers including growing enrollment and changing student demographics along with compensation increases for employees. (See also FCPS's FY2016 Budget Presentation, Proposed Budget, Citizen's Guide to Understanding the Budget, and Budget Talking Points.)
2014-12-06: FCTA: Report on FCPS Listening Session, by Chuck McAndrew
Chuck attended a FCPS Listening Session at the Hunters Woods Elementary School in Reston given by Dr. Karen Garza, School Superintendent. He reports on who attended and what transpired.
2014-11-12: Fx Ti404: County schools search for solutions to space squeeze, by Kate Yanchulis
While the flood of students into Fairfax County schools has slowed, the squeeze for space continues. Fairfax County schools used more than 900 trailers last year, and lack of capacity will remain a problem for years to come, assistant superintendent for facilities and transportation.
2014-10-31: ACT Inc: FCPS 2014 Profile Report (view the FCPS College Readiness summary)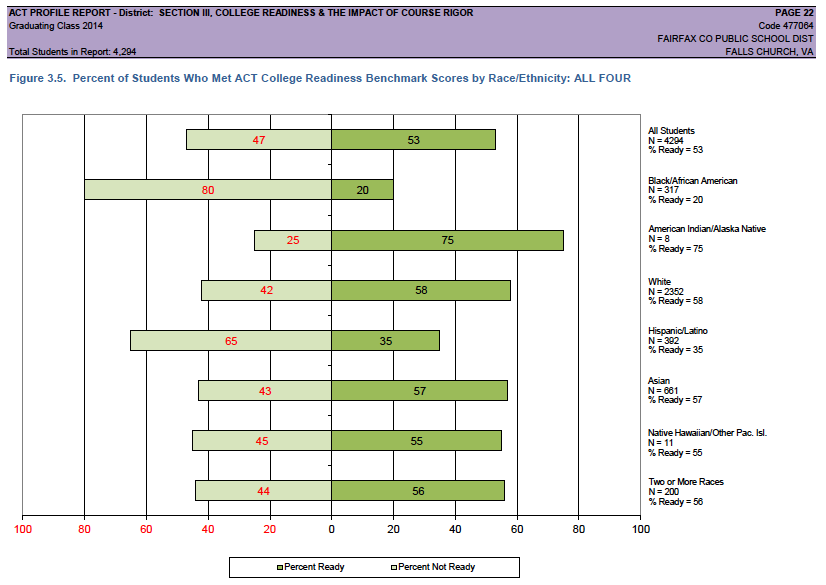 2014-10-10: ACTA: Fairfax County School Board Strengthens FCPS Audit Functions
"The Fairfax County School Board has created an auditor general position, added a fourth member to the Audit Committee, and approved the FY 2015 audit plan. The action was taken at the Board's business meeting on October 9."
2014-09-26: Fx Ti404: Back to basics -- the need for math memorization -- FCTA's James Ruland
Fairfax County Public Schools (FCPS) bought into the spiralling approach wholesale a dozen years ago, with the adoption of the "Everyday Math" textbook for elementary school students. Almost immediately thereafter a new service industry, math tutoring, blossomed for young children.
2014-08-25: Daily Signal: 4 Charts Every Mom With Kids Going Back to School Should See
Public school districts need to trim bureaucracy. To wit: 1) Only half of education jobs are teachers; 2) Education staffing has outpaced student enrollment; 3) The farther a school is from a city, the more non-teaching staff it has.
2014-06-28: WaPo: 40% of kindergarteners in Fairfax Co schools require English instruction
School officials said there is evidence that some immigrant families moved to Fairfax after Prince William's law took effect; the Fairfax school system experienced an increase of 14,000 Hispanic students between 2008 and 2014.
2014-05-16: Reston Now: FCPS Will Change Administration Structure
Effective July 1, FCPS will no longer have eight clusters. Instead, it will have five regions, each with about 36,000 students. Superintendent Karen Garza said the new structure will create "significant" budgetary savings.
2014-03-13: Fairfax Times: School Board split heading into budget talks
The Fairfax County School Board is split on how to handle the school system's potential state funding heading into budget negotiations with the Board of Supervisors.
2014-01-27: FCTA president's presentation to the school board (video 3:31 min)
Arthur Purves comments on fiscal restraint and dismal academic results.
2014-01-25: FCTA: Fx Co Public Schools - High Taxes for Low Achievement ...(FCPS response.)
Between Fiscal Year (FY) 2000 and 2014, Fairfax County real estate taxes for the typical homeowner increased $2700 (114 percent), from $2407 to $5146. Inflation over that period was 47 percent.
2014-01-09: WaPo: Fx schools chief calls for $96M in budget cuts, increased class sizes
The proposal includes $96 million in cuts that would eliminate about 730 staff positions from Virginia's largest school system. The number of assistant principals would be cut and about 460 classroom positions would be removed.
2013-12-29: FCTA: FCPS Budgets 2000 to 2014
FCTA's Fred Costello has compiled basic Fairfax County Public Schools (FCPS) budget data for FY2000 through FY2014, as shown graphically, with summary data, and in item-by-item detail.
2013-11-27: WaPo: FCPS leaders meet to discuss projected budget shortfall
County executive Ed Long said the schools and county supervisors face a "daunting task", as they look to fund operations and services.
2013-11-20: FCPS: Response to FCTA's "High Taxes for Low Achievement"
2013-10-24: FCPS: Adjustments for Growth COLA and Benefits 2000 to 2014
FCPS's Office of Budget Services provides a table that shows the year-by-year history of increases in growth, COLA, step (including percentages), and employee benefit cost increases (all benefits, not just pension and health insurance).
2013-10-21: WaPo: FCPS faces tough choices in budget shortfall
The Fairfax County School Board on Monday began considering extensive cuts to next year's budget, as the county's new superintendent suggested bridging an expected $140 million gap by lowering school staffing, increasing class sizes and implementing a sports user fee.
2013-09-xx: FCPS: A Citizen's Guide to Understanding the Budget
"We will face a critical challenge as our revenues have simply not increased at the same rate as our growth and needs." -- Karen K. Garza, Superintendent of Fairfax County Public Schools
2013-04-15: WaPo: Education Study on D.C. Area High Schools
The Washington Post conducted a study on America's most challenging high schools, including scores for more than 170 Washington-area public high schools.
2013-02-11: FCTA: Student Achievement Flat in Fairfax County Public Schools
While taxes are increasing, student achievement in Fairfax County Public Schools is stagnant, except for Asians -- even though FCPS consumes half of annual County tax revenues.
2013-01-28: Tech Dirt: FCPS Dumps e-Textbooks due to Publisher Restrictions, by Tim Cushing
Fairfax County Public Schools (FCPS) is making the switch back to paper textbooks, to the tune of $2 million, after running into system requirements that prevented some of its students from taking advantage of the digital books. The intellectual property (IP) concerns of publishers made convenient access to their e-textbooks impossible.
2012-09-11: Examiner: What ails Fairfax schools? Not a lack of funds -- OpEd
"When vendors start writing their own statements of work, sitting in on FCPS budget discussions when they are negotiating contracts with FCPS, and when over 50 staff are doing their best to circumvent the rules, we have a problem." -- concerned citizen to Fairfax supervisors
2012-09-05: Watchdog.org: 'At-risk' Fairfax charter tests Virginia's largest school district
Because Virginia gives local school boards the final say on any charter, the new charter finds itself in the midst of a provincial and occasionally politicized vetting process.
2012-07-28: NYT: Is Algebra Necessary?, by Andrew Hacker
Yes, young people should learn to read and write and do long division, whether they want to or not. But there is no reason to force them to grasp vectorial angles and discontinuous functions. Think of math as a huge boulder we make everyone pull, without assessing what all this pain achieves.
2012-05-17: Patch: FCPS Has a Credibility Problem -- OpEd by Michele Menapace
Michele Menapace, a parent advocate, questions some of the school board's budget decisions.
2012-01-30: FCTA: Cut taxes by $1500. Don't raise them by $300
Between FY2000 and FY2007, real estate taxes for the typical Fairfax County household doubled, from $2400 to $4800 per year. Since 2007, the supervisors have kept the real estate tax at $4800, despite decreasing assessments. This is $1500 more than the typical household would pay today if real estate taxes had increased only at the rate of inflation since FY2000.
2011-01-27: FCTA: Higher pension costs real reason for school cuts
Rather than funding academic excellence, higher taxes are giving school employees better salaries and benefits than received by taxpayers. According to the county website, between 2001 and 2009 private-sector raises in Fairfax County outpaced inflation by 7.3 percent. Over the same period, county raises outpaced inflation by 22 percent.
2009-01-21: FCTA: Excessive public-sector compensation causes school budget deficit
More than half of the $429 million was spent to give school employees higher raises ($110 million) and better benefits ($151 million) than taxpayers get in the private sector. Between FY2000 and FY2007, raises for school employees were over five percent per year, while taxpayer incomes were increasing two percent per year.
2007-01-29: FCTA: Lack of transparency in student achievement
FCTA has asked FCPS: 1) why it does not publish ACT results; 2) what percentage of its graduates who earn four-year degrees; 3) what percentage of its students achieve at [national] standards; 4) what percentage of 12th graders read at the 12th-grade level. FCPS does not know.
2007-01-16: FCTA: School Board should obey election laws
It is not right to use tax-funded resources to campaign for a bond referendum and then not provide equal time to the opposing view -- that capital improvements should not be financed from bond sales since each year the county spends more on debt service than it receives from bond sales.
2006-02-02: FCTA: FCPS claims of academic excellence are incomplete
Schoolmatters.com, a school-rating website provided by Standard and Poors and the Bill and Melinda Gates Foundation identifies the top-performing school districts in each state. Their analysis considers both test scores and demographics and lists 16 top school districts in Virginia. Fairfax County is not one of them.
2005-02-02: FCTA: Despite Spending Increases, SAT scores remain flat
The school system states that large tax increases are justified to maintain the schools' "academic excellence", an assertion based on the County's average College Board SAT score being 79 points above the national average (50th percentile). However the school administration never mentions that the County's average SAT score is only at the 65th percentile.
2004-02-02: FCTA: Hoping new superintendent will bring era of candor and honesty
Current-year estimates are too high because you repeatedly underestimate the ending balance. The result is that proposed budget increases seem smaller than they really are. And you publicize increases in SAT scores while not publicizing that over the past six years the percentage of seniors taking the SAT has decreased from 89 percent to 77 percent.
2003-01-27: FCTA: Superintendent makes misleading statements about school budget
This year's school operating budget is $180 million more than needed to keep up with inflation and enrollment growth over the past three years. How can anyone transform this into a budget cut? Apparently the school administration feels it can promote its budget only by misrepresenting it.
2000-01-24: FCTA: Superintendent's proposed FY2001 budget
The superintendent says that school-based positions are up and non-school based positions are down. But since 1975, non-teaching positions have increased much faster than enrollment and school salaries have increased more than county salaries, until last year. And per-student spending, adjusted for inflation, has increased 100 percent.
1998-01-22: FCTA: Proposed FY1999 Capital Improvement Plan
The new superintendent has promised to establish measurable achievement goals. FCTA proposes that SAT scores be increased from the 65th to the 80th percentile and that 3rd, 5th, 8th, and 11th grade standardized test scores be increased from the 75th to the 90th percentile. We are also concerned that despite higher taxes both the school system and the county are neglecting buildings and infrastructure.
1997-05-22: FCTA: Federal Funding of Vocational Education
Our classrooms are the silent battlefields between two philosophies of education -- traditional and progressive. Progressive education is not working. You can choose to reject federal government funding and return to traditional education, or you can accept federal funding, continue progressivist reforms, and watch the Fairfax schools continue to deteriorate.
1997-02-13: FCTA: Proposed Student Information System
Why is it that school board members are so concerned about protecting student privacy that they object to releasing the Centreville High School election results but are willing to put 140,000 students' health and discipline records and grades on the Internet?
1997-01-23: FCTA: Proposed FY1998 Capital Improvement Plan
You can and should fund this [$56 million per year for the next ten years] shortfall from the school operating budget. This board's current policy of funding both school renewals and construction from bonds is not working. Renewals should be funded from the operating budget and construction from bonds.
1971-03-26: Evening Star: Fairfax Schools Provide Data for Budget Study, by Thomas Crosby
The Fairfax County School Board has decided in closed session to send the county government information which might be used to cut the school budget. Fairfax has a $294.5 million budget this year, with a $15.4 million deficit. The school board announced it was reducing its operating budget request by $1.6 million, to $79.7 million.