Fairfax County Loses Taxpayers, Virginia Gains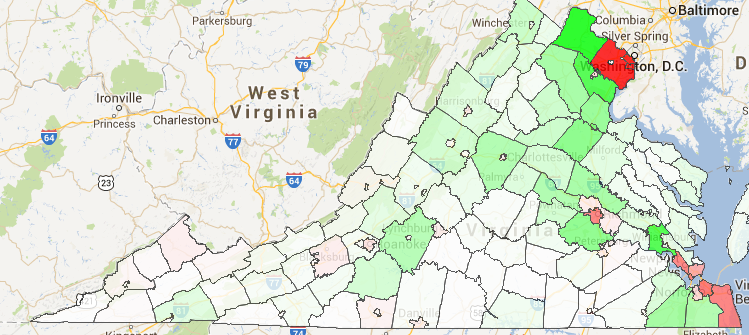 In the above map, from howmoneywalks.com, Fairfax County is bright red because since 1993 taxpayers with Average Gross Income (AGI) totaling over $6 billion have left Fairfax County. Most have moved to neighboring Loudoun and Prince William counties, which are bright green. Counties in green have had a net gain of taxpayers.
Meanwhile, between 2000 and 2011 the number of Fairfax County residents living in poverty increased 70 percent, from 43,396 to 73,794 (U.S. Census Bureau, 2000 Decennial Census and 2011 American Community Survey).
But the state of Virginia had a net gain of $3.30 billion in annual AGI. The breakdown for both Virginia and Fairfax County are shown below.

  Virginia Gained Wealth From:            Virginia Lost Wealth To:    (+$3.30B)
     $2.37 billion  New York                 $3.12 billion  Florida
     $1.75 billion  New Jersey               $2.39 billion  North Carolina
     $1.30 billion  Maryland               $681.10 million  South Carolina
     $1.02 billion  District of Columbia   $505.47 million  Texas
   $828.23 million  Pennsylvania           $494.38 million  Colorado

  Fairfax Co Gained Wealth From:          Fairfax Co Lost Wealth To:  (-$6.03B)
     $1.52 billion  Arlington Co, VA         $3.94 billion  Loudoun Co, VA
     $1.26 billion  Alexandria City, VA      $2.22 billion  Prince Wm Co, VA
   $403.42 million  Montgomery Co, MD        $1.00 billion  Fredericksburg, VA
   $216.52 million  Washington, DC         $281.84 million  Fauquier Co, VA
   $102.13 million  Los Angeles Co, CA     $255.12 million  Stafford Co, VA

For more about this topic, read " How Money Walks: How $2 Trillion Moved Between the States, and Why It Matters" by Travis Brown. Also, the National Taxpayers Union has produced a 6-minute youtube video.